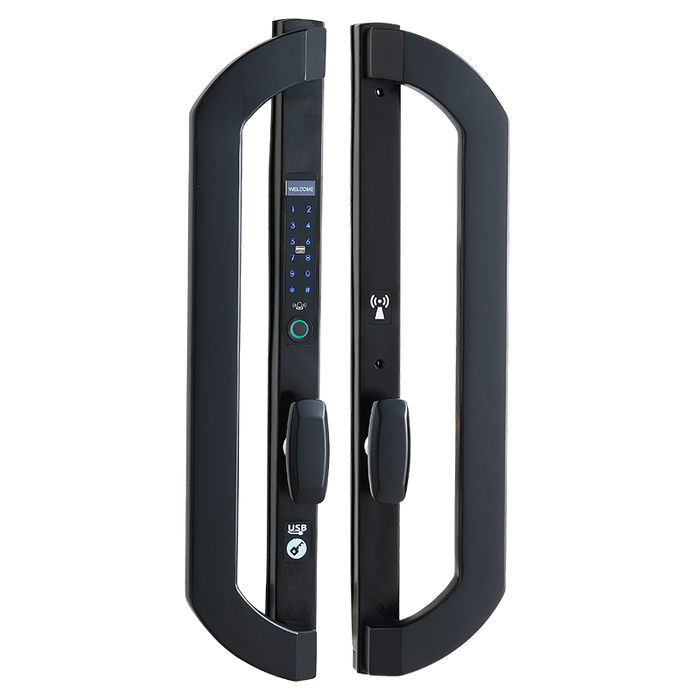 SUPREME| Commercial Property Smart Fingerprint Door Lock Passcode Cards and Mobile APP Keyless Entry Aluminum Door , Vinyl Door , Patio Door Lock
New design excellent solid material large handles comes in different colors left opening handle or right opening handle you can choose from the product page.
Excellent choice for aluminum door, vinyl or steel doors entrance or patio door Supreme will add unique elegant touch to your door.
Fully weather resistance IP65 waterproof.
Supreme smart door lock will allow you to enter your property with fingerprint, IC card, Passcode, remote mobile App and mechanical key.
Supreme also available with sliding door mortise if you have sliding patio door or luxury interior, exterior sliding door simply select your door style on the product page. Suitable for retail store aluminum or steel doors entrance, offices, commercial properties, patio door, restaurants etc.
- Supreme has multiple colors and different opening style to avoid confusion when you're purchasing this product simply follow this steps 
1- Select color you like 
2- Select door opening side left or right 
3- Select door opening mechanism either for sliding mortise or hinged door mortise to see mortise size and specification scroll down on the product page you should be able to see both mortise measurement in inches.